MANAGED SECURITY
TOP OF THE LINE SECURITY SOLUTION FOR YOUR BUSINESS.
As a business owner, your primary focus should be growing your business, not worrying if your company is a member of the "Fortune 5 Million"? If your organization has between 3 and 100 employees you are a member of this prestigious group. And as of now, you can have the same Internet security as members of the Fortune 500.
AS OF NOW, EVEN SMALL COMPANIES CAN HAVE ENTERPRISE CLASS INTERNET SECURITY
What is enterprise class Internet security? It's the highest level peace of mind resulting from multi layered services monitored and managed on your network 24/7 by our Vexus Managed Secure Internet Department. Click here for our printable brochure.
Managed Secure Internet from Vexus is a powerful state-of-the-art Dell Sonicwall firewall protecting your gateway and automatically updating software stopping attacks. It is secure Wi-Fi, anti-spyware, anti-virus, spam filtering, and content filtering to block objectionable and unproductive websites. It also includes secure, remote access VPNs and weekly security and productivity reports emailed to you. And Vexus Internet security includes unlimited customer service and consulting. You can call us any time. It is the highest value bundle of Internet security services in the industry.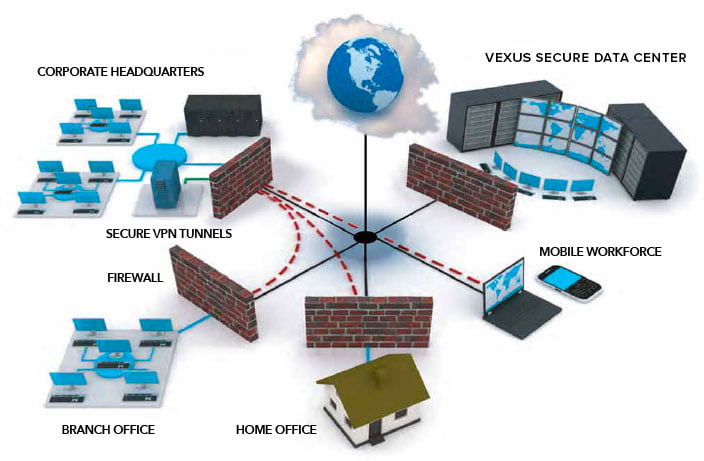 Vexus MANAGED SECURE INTERNET FEATURES
Enterprise-Level Firewall, professionally configured and installed
Firewall Monitoring/Management 24/7 by a dedicated expert security team
Gateway Virus & Spyware Filtering
Mobile VPNs for all secure access and telecommuting needs. (Both IPsec & SSL)
Vexus Exclusive: Weekly Emailed Strategic Management Reports (displays all Internet activities and blocked threats)
Internet Content Filtering Service; blocking employee access to inappropriate and unproductive websites (54 categories)
DMZ capable for any secondary subnet needs
Intrusion Prevention Service (IPS): stopping any attacks on the network in real time and preventing backdoor application threats
Site-to-Site VPNs: set up and managed 24/7 (hub and spoke designs that include headquarters to branch locations)
Firewall Log Archive: maintaining a long-term record of all your company Internet activities
Secure WiFi (Wireless LAN) for a secure wireless network experience
4G Backup Internet failover support for connectivity redundancy
Why Switch to Vexus Business Services?
Fiber-Fast Internet Speeds Up to 10 Gigs and More!
No Data Caps
24/7 local customers support