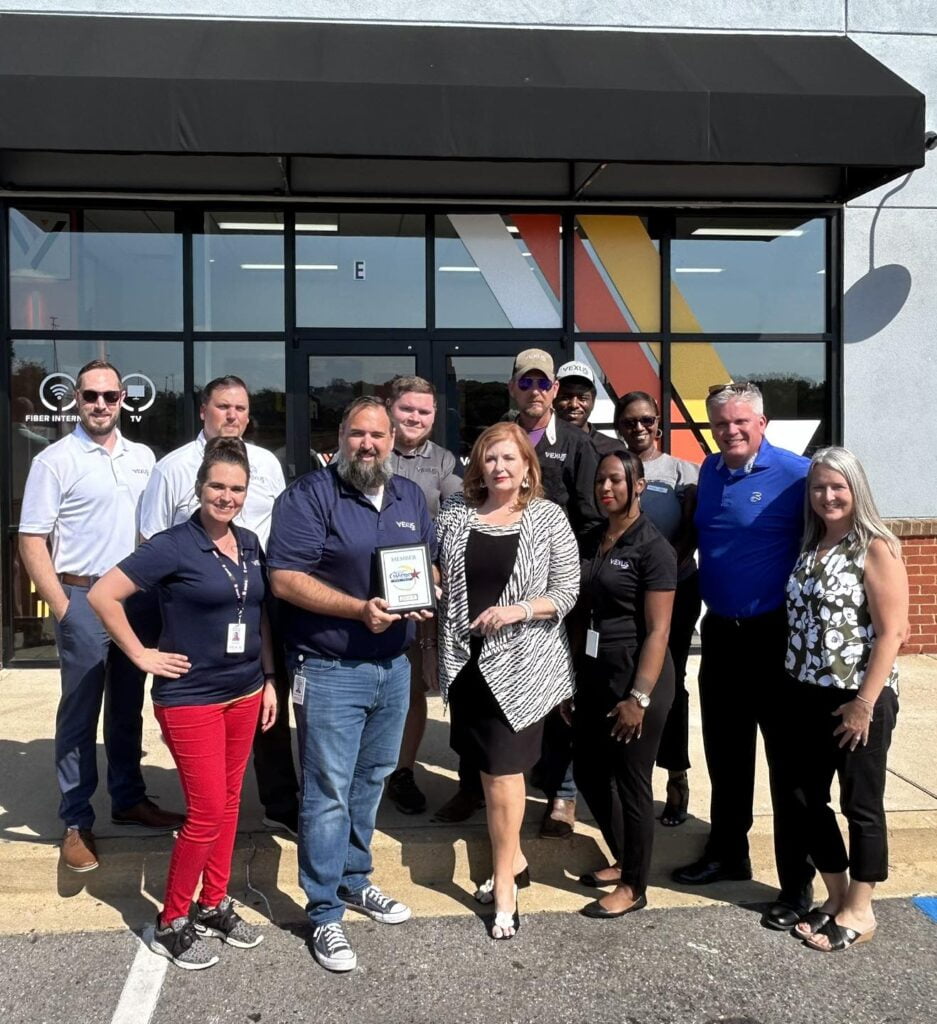 Vexus Fiber™ Holds Ribbon Cutting Event for New Retail Store in Alexandria, LA
Company Unveils New Retail Store to Support Customers in Louisiana
Alexandria, LA (August 12, 2023) – Vexus Fiber, ("Vexus"), a leading provider of high-speed fiber-optic internet and advanced telecommunications services, is thrilled to announce the recent Grand Opening of its new store and office in Alexandria, LA on August 10th, 2023.  The event took place from 4:00 p.m. to 6:00 p.m. at the store's location at 2385 South MacArthur Dr., Suite E in Alexandria.
The newly renovated building is home to a first-class retail store front that will handle local sales, technical support, and billing issues. The retail store will be open to the public and provide a space for new or existing customers to speak face-to-face with Vexus representatives about their services or installation and even demo some of the cutting-edge products that Vexus provides. The new space will also include offices for all of Alexandria operations including regional management, sales, customer service, field operations, technicians, and construction.
"We are really excited to open our new store in Alexandria," said Chris Fontenot, Vexus Fiber's General Manager for the area. "We want to dramatically improve the way people connect and communicate, and we are committed to delivering exceptional customer experiences and reliable, lightning-fast fiber internet speeds."
Guests who attended the grand opening had the chance to enjoy refreshments, participate in exciting giveaways, and take advantage of exclusive promotions available during the event. As a token of appreciation for their warm welcome, Vexus Fiber will be offering special discounts to new customers who sign up for services in August.
"Internet services are drastically changing communities for the better, and Vexus' fiber optic high-speed internet is at the lead of these changes," said Fontenot. "As a member and partner of the Alexandria community, Vexus is committed to delivering first-class customer service and an exceptional Total Home Wifi Internet experience. With our local stores, U.S.-based call centers and continued community involvement, we are excited to contribute to the growth of Alexandria."
Vexus Fiber currently operates fiber-to-the-home networks in Lubbock, Amarillo, Canyon, Wichita Falls, Abilene, and surrounding areas in Texas, as well as Hammond, Covington, and Mandeville in Louisiana. The company is building new networks in the Rio Grande Valley, Tyler, Nacogdoches, Huntsville, Laredo, Pampa, and San Angelo, Texas. They are also expanding in Slidell, Lake Charles, Alexandria, and Pineville, Louisiana, as well as Albuquerque, Las Cruces, and Santa Fe, New Mexico. Vexus is currently headquartered in Lubbock, Texas.
Residents and businesses that are interested in Vexus Fiber services can visit connect.VexusFiber.com to receive updates on construction and sign up for services. Those interested in joining the Vexus Fiber team can visit VexusFiber.com/jobs.
###
About Vexus
Vexus Fiber is a leading provider of high-speed fiber-optic internet and advanced telecommunications solutions for both residential and business customers across Texas, New Mexico, and Louisiana. With a commitment to excellence, Vexus Fiber delivers lightning-fast internet speeds, crystal-clear voice services, and reliable connectivity to residential and business customers across Texas. By leveraging cutting-edge technology and exceptional customer service, Vexus Fiber is revolutionizing the way people connect and communicate.  For more information, please visit VexusFiber.com.
Vexus Fiber Contact:  Kyle Alcorn     573-481-2732
MEDIA CONTACT